Skip to main content

It looks like you're using Internet Explorer 11 or older. This website works best with modern browsers such as the latest versions of Chrome, Firefox, Safari, and Edge. If you continue with this browser, you may see unexpected results.

<!—Start -->
Welcome
Related Resources
Visit these guides for additional information.
Federal Law & Gov't Docs
Case Law and Court Documents
Federal case law and court documents are often available online for free, particularly if the case was decided recently. Generally, check the website of the deciding court to see if they provide digital copies of their cases. In addition, the following resources provide free case law.
State Law
State Case Law and Court Documents
Courts are increasingly making their materials freely available online, frequently via the court website. At the state level, this is particularly true for state Supreme Courts. When looking for state case law, it is often best to start at the website of the deciding court if you have a citation. The sources below provide alterantives for hard-to-find cases.
Treaties
U.S. Treaties
Several government-sponsored websites provide the full-text of U.S. treaties on the web. Refer to the list below for date ranges for each sources.
THOMAS

THOMAS, a resource created and maintained by the Library of Congress, offers access to a wide range of congressional documents for free online. This includes legislative action for all treaties since 1974 and select treaties as far back as 1967. Full-text of all treaties is not included.

Avalon Project at Yale Law School

This project provides digital copies of historical diplomacy documents including treaties.
Foreign & International Law
African Legal Materials
While not all African nations provide online access to their legal materials, an increasing number of these materials are available either on government websites or from non-governmental organizations. However, it is important to remember that these copies of the laws are not always official and you should always confirm the accuracy of any information in an official sources.
Asian Legal Materials
Increasingly, countries throughout Asia are posting their legal materials on government run website, sometimes even in translation. In addition, many organizations have created websites to provide free online access to legal materials for the region. However, it is important to remember that these copies of the laws are not always official and you should always confirm the accuracy of any information in an official sources.
Secondary Sources
Journals
While many journals are only available on paid databases, open access journals and other freely avaiablle articles are increasingly available. The following sources collect freely available journal articles.
Data Sources
U.S. Data Sources
Many government data sources are made available to the public for free online. Check the websites of any relevant agencies or organizations to see if you can find additional data beyond that found in the databases below.
Bureau of Justice Statistics

The Bureau of Justice Statistics provides free access to data on courts, crimes and law enforcement to name just a few.

CDC Data and Statistics

This CDC website offers data on topics relating to general health topics as well as specific diseases.

Data.gov's data catalog

This searchable catalog includes over 70,000 datasets on a wide range of topics. Datasets from federal, state, academice and other institutions are included.

FedStats

This website makes data from over 100 government agencies available for free online.

U.S. Bureau of Labor Statistics

This website offers access to publications and data sets on labor and economic issues.

U.S. Census Bureau

The U.S. Census Bureau provides access to data about the United States in a variety of formats. This page collects all of their data access tools in one place.

U.S. Supreme Court Databases

This database includes data on the U.S. Supreme Court from 1953 to 2005.

TRAC

From the website: "The purpose of TRAC is to provide the American people — and institutions of oversight such as Congress, news organizations, public interest groups, businesses, scholars and lawyers — with comprehensive information about staffing, spending, and enforcement activities of the federal government."
Ask Us
Writing Center
The Writing Center helps students develop the skills they need to become better writers.
Help is available at any stage in the writing process. Students can also get assistance with class assignments, presentations, resumes, cover letters, applications, and more.
Make an appointment for a consultation.
MLA & APA Citation Styles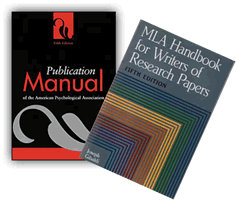 Visit the Research Process guide for MLA & APA Citation Styles formatting guidelines and citation examples.
Off-Campus Access
The Library provides remote access to journals, magazines, newspapers, E-books, streaming videos, and more.
To access these resources from off-campus, under the Quick Links box on the Library's home page, click on Databases A-Z link and when prompted, enter your JWU Wildcat email and password if you have not already logged in to your JWU account.