Skip to main content

It looks like you're using Internet Explorer 11 or older. This website works best with modern browsers such as the latest versions of Chrome, Firefox, Safari, and Edge. If you continue with this browser, you may see unexpected results.

<!—Start -->
Writing Center
The Writing Center helps students develop the skills they need to become better writers.
Help is available at any stage in the writing process. Students can also get assistance with class assignments, presentations, resumes, cover letters, applications, and more.
Make an appointment for a consultation.
MLA & APA Citation Styles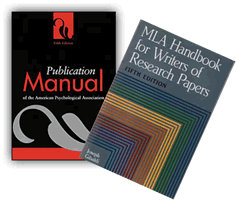 Visit the Research Process guide for MLA & APA Citation Styles formatting guidelines and citation examples.
Off-Campus Access
The Library provides remote access to journals, magazines, newspapers, E-books, streaming videos, and more.
To access these resources from off-campus, under the Quick Links box on the Library's home page, click on Databases A-Z link and when prompted, enter your JWU Wildcat email and password if you have not already logged in to your JWU account.
Contact us!
Merrie Valliant